Put Me Out to Pasture (on the Georgetown Waterfront)
I've made mention, in previous posts, of the fact that a friend of mine is managing a new restaurant called
Agraria
on the Washington Harbour. I've visited the restaurant a number of times over the past week and the place is an absolute knockout.
My friend is the restaurant manager and sommelier, invited me to an exclusive, "friends only" bar preview last week. Unable to decide between the classic and inventive drink menus, I split the difference and ordered myself one of each - and by one of each I mean one of each and every drink on the menu (almost, anyway). Fortunately for everyone involved, I did not sample each of the countless whiskeys available but instead contented myself with fondling a 30 year old. (Macallen that is).
One of Agraria's superb bartenders started me off with best proper martini I've had in at least a year. I next turned to the tasty prickly-pear infused margarita, followed by a sidecar and then the evening began to dissolve when I imbibed my way through 3 or 4 champagne cocktails in such rapid succession that I can only vaguely recall their contents, though I'm pretty sure these included pureed strawberries getting involved with a basil leaf. Despite the, er, memory lapses, I can fairly sum up the bar menu like this: The classic drinks were classic and delicious. The inventive drinks were tasty and inventive. In fact I'm pretty sure the cocktails at Agraria are secretly made by angels.
Fallen angels, that is. Because the Agrarian bachannalia was directly responsible for the post-Agrarian debauchery depicted in my previous post and some other assored misadventures, which are perhaps best left unsaid, if not undone.
The restaurant itself is owned by farmers and, once Agraria gets its menu sorted, they plan to offer a variety of organic offerings from smaller, family-run farms. I was hoping to see some real, live farmers at last night's grand opening but, sadly, if there were any farmers in attendance, they'd traded their pitchforks and overalls for Brooks Brothers finery and were indistinguishable from the architects, lawyers, journalists and political types enjoying the scene.
And an enjoyable scene it was. I really like this place. The decor is stunning, the staff are knowledgeable, attractive, and hip, and the drinks are strong and delicious. What more can you ask? Maybe a few pictures...
Elysian: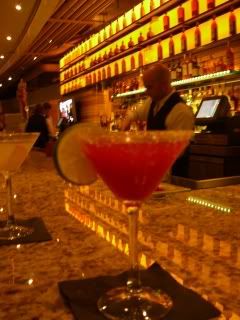 Utopian: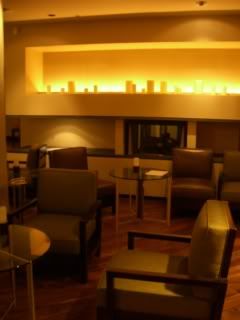 Anticipatory: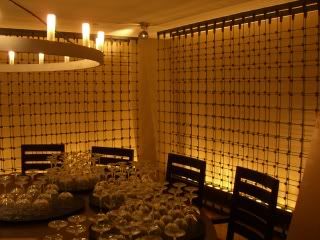 Intemperately: