Catching Up
First of all, this blogging thing is making me famous as some sort of nerd. Last night, three separate people came up to me asking me if I were red storm. My fame is really growing. I'm like an online personality. Well, to be fair, the first person just asked me if I was friends with
Lonnie Bruner
, so technically, in this instance i am famous only by extension. The other two, however, asked me if I write Precious Overcaffeination. What I'm saying is, people know me. They know me for my nerdiness.
First the Swedes, Russians, and haters
, and now people are coming up to me in bars.
Finally. I HAVE ARRIVED!
This was at the opening of my friend's new bar, the Red and the Black last night, which rocked, by the way. You should go there sometime. 12th and H Street. And you should hit Palace of Wonders next door too. Just don't stare at the decor too long or you'll get dyspepsia.
Anyway. I've got such a blog deficit it's hard to catch up. So I'll start with last weekend. My brother Brian came in, ostensibly to help me move, but since I'd already moved, this left plenty of time for day drinking that involved some world cup action and pub games. While I put up a strong effort, my brother ultimately killed me at pool and then at darts, as depicted here. See how I put up a strong effort in this picture?
Unfortunately, my brother snuck me with a dart to the back of the neck, thereby preventing me from scoring my final bullseye.
After that we went out to my friend's restaurant, and drank champagne all night, to celebrate. I was celebrating my move. My brother was celebrating the fact that he did not actually have to help me. See us celebrating?
See how we continue to celebrate?
I celebrated so hard my housemate, the Czech Czich, became alarmed: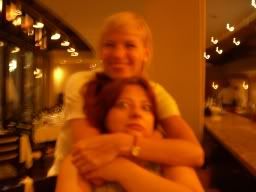 Brian celebrated a little bit too hard, actually.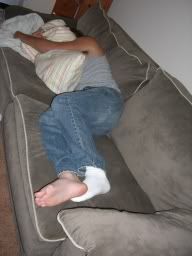 He still rallied enough to go to home depot and prevent me from having a stroke while trying to use the deviously crafted self-checkout machine. Who invented that anyway? Does this sound familiar to anyone? "Unexpected item in bagging area. Please remove item in bagging area. Please place item in bagging area. Unexpected item in bagging area. Please remove item from bagging area. Please wait for assistance."
They might as well program this thing to say "Unsuspecting person trying to use this checkout machine. Please go kill yourself."
So anyway, that was last weekend. It was a good one despite the crazy move.
Stay tuned for Mr. G****'s July 4th Tent City Spectacular and Rehoboth Beach Memories (or lack thereof).